A collection of methods and inner classes that provide fine-grained control over the contents and layout of the usage help message to display to end users when help is requested or invalid input values were specified.
Class Diagram of the CommandLine.Help API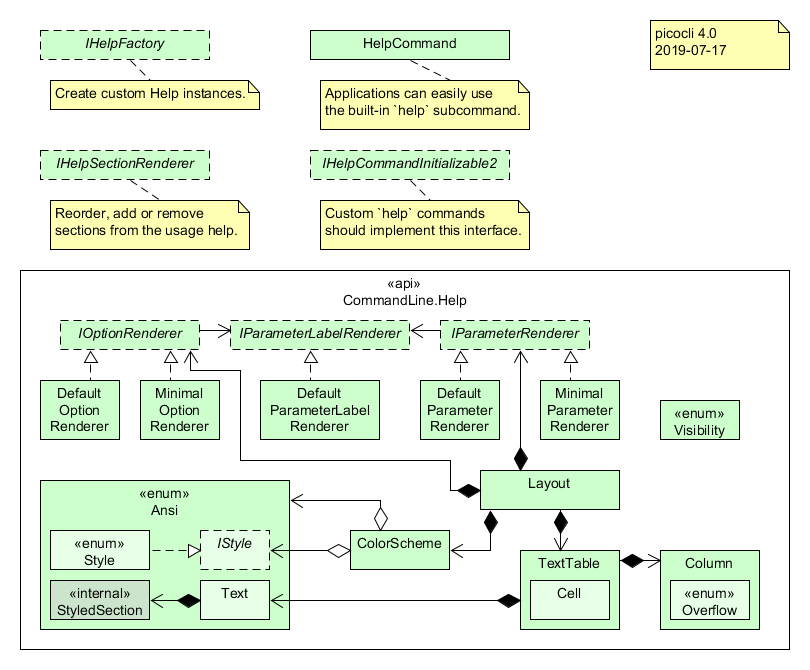 Layered API
The CommandLine.Command annotation and the CommandLine.Model.UsageMessageSpec programmatic API equivalent provide the easiest way to configure the usage help message. See the Manual for details.
This Help class provides high-level functions to create sections of the usage help message and headings for these sections. Instead of calling the CommandLine.usage(PrintStream, CommandLine.Help.ColorScheme) method, application authors may want to create a custom usage help message by reorganizing sections in a different order and/or adding custom sections.
Finally, the Help class contains inner classes and interfaces that can be used to create custom help messages.
IOptionRenderer and IParameterRenderer
Renders a field annotated with CommandLine.Option or CommandLine.Parameters to an array of CommandLine.Help.Ansi.Text values. By default, these values are
mandatory marker character (if the option/parameter is required)
short option name (empty for parameters)
comma or empty (empty for parameters)
long option names (the parameter label for parameters)
description
Other components rely on this ordering.
Layout
Delegates to the renderers to create CommandLine.Help.Ansi.Text values for the annotated fields, and uses a CommandLine.Help.TextTable to display these values in tabular format. Layout is responsible for deciding which values to display where in the table. By default, Layout shows one option or parameter per table row.
TextTable
Responsible for spacing out CommandLine.Help.Ansi.Text values according to the CommandLine.Help.Column definitions the table was created with. Columns have a width, indentation, and an overflow policy that decides what to do if a value is longer than the column's width.
Text
Encapsulates rich text with styles and colors in a way that other components like CommandLine.Help.TextTable are unaware of the embedded ANSI escape codes.